VISION: PROMOTING MORAL & TRADITIONAL VALUES THROUGH HUMAN RIGHTS, PEACE BUILDING & YOUTH DEVELOPMENT AS PRE-REQUISITES TO A CULTURE OF PEACE!
COVID-19 Message: Social Distancing & Regular Washing of Hands with Soap and Running Water should be a regular practice by ALL to combat the COVID-19 (Corona Virus) & Save Lives…
COVID-19: CAMYOSFOP TAKES THE LEAD IN MOBILIZING CAMEROONIAN YOUTH AGAINTS COVID-19
HANDS IN GLOVES WITH UN WOMEN, CAMYOSFOP TAKES THE LEAD IN MOBILIZING CAMEROONIAN YOUTH AGAINTS COVID-19
Following the measures put in place by the government of Cameroon in the fight against the Corona Virus (Covid-19) on March 17, 2020 has not left anyone including UN Women indifferent. UN Women has therefore been involve in mobilizing and distributing sanitary and hygienic materials to the various sectors of the society including, youth, women and religious leaders. It is therefore on this basis that CAMYOSFOP has been selected as the lead youth organization to mobilize and distribute the materials from UN Women to the various youth groups. Madam Hind Jalel, the Resident Representative of UN Women country office for Cameroon  noted during the handing over ceremony of the materials that, considering that youth especially young women are the future of every nation it is important to provide protection for them in such circumstance.
NEW YEAR MESSAGE FROM THE EXECUTIVE DIRECTOR OF CAMYOSFOP
Dear CAMYOSFOP Members and Friends,
Happy prosperous 2020 filled with peace and achievements in all your endeavors. I would like to take this opportunity to immensely thank everyone for their outstanding achievements in 2019, and outline our goals for 2020.In 2019, CAMYOSFOP carried out numerous interstate and grassroots capacity buildings, advocacies and campaigns. These included strengthening the capacities of the seven State Parties to the Kinshasa Convention on Small Arms and Light Weapons (SALW) through the use of the MOSAIC Modules on the creation and management of National Commissions on SALW (NatCom); elaboration of National Action Plans (NAP); reporting on the UN Programme of Action on SALW (PoA) and the SALW nature of women and youth. The outcome of this project is a commendable improvement on the functioning of the NatCom of Central Africa Republic, the creation of a NatCom by the government of the Republic of Congo and the progress made by Cameroon, Chad and Gabon in the creation of their NatComs.
MOBILIZING THE MBORORO AND PYGMY COMMUNITIES ON THE FIGHT AGAINST HIV/AIDS AND GENDER BASED VIOLENCE (GBV)
In the course of 2019 and 2020 CAMYOSFOP is engaged in mobilizing the Mbororo and Pygmy communities in the Eastern Region of Cameroon against HIV/AIDS and GBV. This program funded by UN Women is implemented on the basis that these groups are the most vulnerable in Cameroon and with very little information on the HIV infection rates. Though the pygmies and the Mbororos are the smallest groups of people in Cameroon with the pygmies constituting about 55,000 all over Cameroon, unfortunately health requirements of these pygmies is poorly understood because of their continued isolation from the other tribes in Cameroon. Most of the pygmies are therefore tested through opportunistic diseases of HIV. Most of these tests shows that their infection rate is very low. Never the less both the pygmies and the Mbororos remains a target of HIV as a result of their reproductive health system that does not take into consideration the various family planning methods and the prevention of HIV…
STRENGTHENING THE TECHNICAL AND OPERATIONAL CAPACITIES OF STATE PARTIES TO THE KINSHASA CONVENTION ON SALW
RATIONALE:
Over 10 million illicit SALW circulate in the Central Africa Sub Region and is expected to rise with ravaging conflicts in Central Africa Republic, DRC, Cameroon, Burundi and the Boko Haram insurgency in the Lake Chad Basin and the current Anglophone crisis in the North West and South West Regions of Cameroon. The adoption of the Kinshasa Convention on SALW for Central Africa in April 2010 and the entry into force of this convention on March 8, 2017 with Angola's ratification as the sixth state, later on Sao Tome as the seventh state, followed by the holding of the first Conference of State Parties (CSP1) in Yaounde from 11 – 13 June 2018 generated momentum for the effective implementation of the Convention. Unfortunately, its State Parties still lacks capacity on MOSAIC modules on the elaboration of national action plans (NAPs), creation and management of National Commissions on Small Arms (NATCOMS), gender and youth key to the convention's implementation. This project seeks to help build the technical and operational capacities of 7 state parties of the Kinshasa convention on the above mentioned ISACS modules…
CAMYOSFOP TAKES THE LEAD IN PILOTING THE CREATION OF SDG CLUBS
Cameroon is one of the five countries in Africa that is part of the Global Network for Sustainable Development (GNSD) platform. In Cameroon, the Cameroon Youths and Students Forum for Peace (CAMYOSFOP) is piloting the creation of Sustainable Development Goals (SDGs) Clubs in Secondary schools, thanks to her long history of running Human Rights Clubs. The Human Rights Clubs that date back to 2001 have been transformed by CAMYOSFOP to Human Rights, Peace and SDGs Clubs. The effectiveness of these clubs is assessed through extra-curricular activities that include Essay Competition, quiz, debate, drama, drawing and paintings, journalistic reports, poetry and song. In order to kick start SDGs education within CAMYOSFOP clubs, CAMYOSFOP in partnership with the National Commission on Human Rights and Freedoms (NCHRF) organized the 5th Annual Essay Competition Excellence Award on Human Rights in December 2018. 
SIDE EVENT: SHOWCASING GOVERNMENT – CSOS JOINT EFFORTS ON INNOVATIVE AND HOLISTIC PERSPECTIVES ON THE HEFORSHE GENDER EQUALITY AND ENDING GENDER BASED VIOLENCE (GBV).
Speakers:
Representative of the government of Cameroon (MINPROFF): How the government of Cameroon engages the civil society and best practices on joint efforts between the government and civil society in implementing government policies on gender equality and fighting Gender Based Violence (GBV).
Mr. NGALIM Eugine Nyuydine, Executive Director, Cameroon Youths and Students Forum for Peace (CAMYOSFOP). Engaging the Cameroonian youth in the promotion of gender equality and fighting GBV through the Boys-to-Boys Strategy on Ending Violence against Women and Girls.
Ms. Christelle Bay, Executive Director, Hope for Needy Association (HOFNA): Promoting gender equality and fighting GBV through the provision of leadership and entrepreneurial skills to vulnerable groups in Cameroon.
Ms. Sylvie NDONGMO, Coordinator, Women International League for Peace and Freedom (WILPF), Cameroon. The critical role of the civil society in the implementation of UNSC Resolution 1325 as entry point to ending violence against women and girls in Cameroon
Dr Emilie NGO-NGUIDJOL SONGOLO, Coordinator of International & Area Studies, University of Wisconsin-Madison, USA: How could a well design and efficient gender policies and the fight against GBV could be a vector of development in Cameroon
WHO WE ARE (BOARD OF ADMINISTRATORS)
PR. VERKIJIKA FANSO
Prof Fanso is a retired University Professor from the University of Yaoundé I where he taught for over 36 years before going on retirement in July 2011. He has also been a visiting Professor and a fellow to Universities beyond Cameroon …
PETER ESSOKA
Peter Essoka is one of the few Cameroonians who is known by virtually everybody. This is because of the impact which he has left in his professional life that spans over 40 years. As a journalist, Peter Essoka created great sensations in the 70s …
YAAH GLADYS VIBAN
Yaa Gladys Viban has a passion for connecting young people and women to enhance their status in society. A peace-building, peace-loving woman of mettle and a motivational speaker, she has professional expertise in translation and interpretation …
PATIENCE E. FULE-BUANG
Ms Elango is a trained journalist and researcher in the field of Political and Public Communication. A UN trained Facilitator of Facilitators on Human Rights and Gender and on the role of the media in the promotion of Human Rights …
WHO WE ARE (OUR MANAGEMENT TEAM)
MEET OUR MANAGEMENT STAFF
EUGINE NGALIM: Executive Director
Ngalim is one of Cameroon's brightest young leaders and earns a Master's Degree in the History of International Relations from the University of Yaoundé I. In 1999, he founded the Cameroon Youths and Students Forum for Peace (CAMYOSFOP) to promote the role of youths as peace-builders. Since then, he is the Executive Director & Board member of CAMYOSFOP.
RITA SUWUN: Senior Programs Officer
Ms Suwun holds a Maitrise in Business Law from the University of Yaoundé II, and a Diploma in Projects, Planning and Management. She has worked as an intern at the United Nations Industrial Development Organization (UNIDO) in the department of Women Empowerment and Youth Employment where she served as the gender focal point to the United Nations Gender Thermatic Group (UNGTG)…
AMAA Francisca TAMAKO: Research and Policy Development Officer
Ms Tamako is a Cameroonian from the North West Region of Cameroon. She is a holder of a Bachelor's Degree in English and a Diploma in Project Planning and Management.  Amaa is a highly motivated and committed community development practitioner with more than 5 years' experience in the field of project designing, implementation, monitoring and evaluation.
LUKONG Brenda Berriliy: Communications Officer
Ms Berriliy, a Cameroonian, is a holder of a Bachelor Degree in Journalism and Media committed to aligning her career goals through effective and efficient media reporting. With over four years of work experience as a communications officer, writer, researcher, consultant, editor and a humanitarian has as mission to positively impact human welfare in communities for the achievement of the sustainable development goals.
SERGE NGUIAMBA: Public Relations Officer
Mr Nguiamba earns a degree in Law from the University of Yaounde II. He has a long time experience in projects writing, fund raising and the management of human resources and social insurance recovery. He has worked before with National Social Insurance and the Ministry of Finance. He joined CAMYOSFOP as the Public Relations and Fund Raising Officer in 2013…
Jennett Jato : Projects Assistant
Ms Jato is a graduate from the University of Yaounde I, with a BA in Modern Letters and 2018 she undertook a Diploma course on projects management in CETIC Yaounde. In April 2014 she was trained in Addis-Ababa at the African Center for Peace and Security (ACPST) on 'The Artist as a Peace Builder.'
CHRISTIAN SHOFOLA: Accounts Manager
Mr SHOFOLA is an accountant by profession. He obtained a Bachelor of Technology (B-Tech) in accountancy from National Polytechnic Bambui in partnership with The University of Buea. He has also obtained an Advanced Diploma in Accounting and Business from the Association of Certified Chartered Accountants (ACCA)…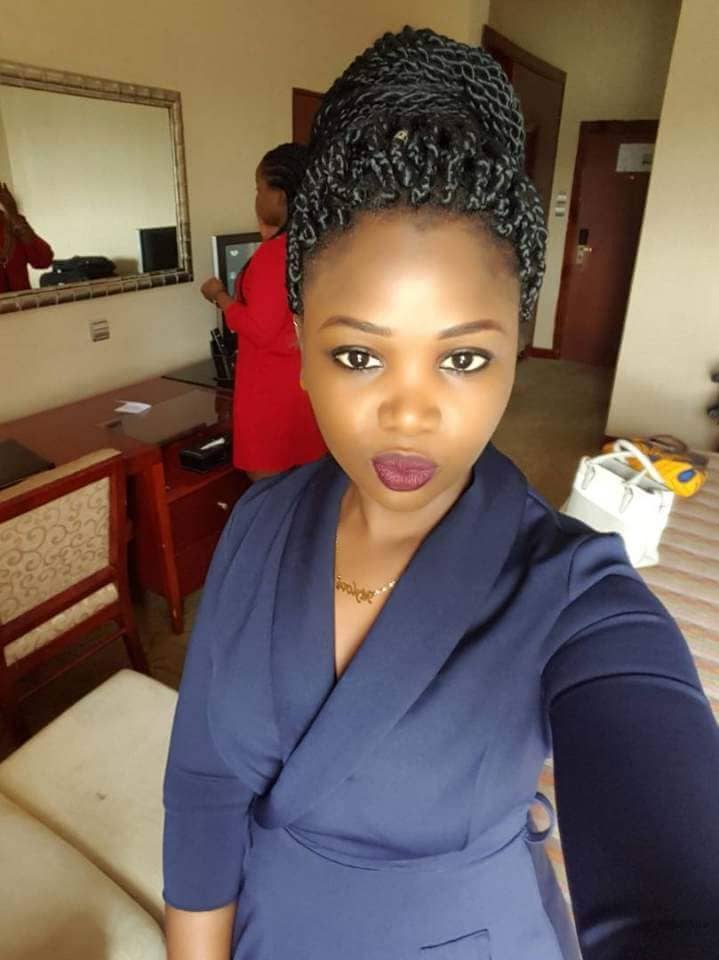 FONBANLA Gaelle Dufe: Research Assistant
Gaelle is a Cameroonian from the North West Region of Cameroon. She is a holder of a Master's Degree in Development Cooperation and Humanitarian Action from the International Relations Institute of Cameroon (IRIC) and holder of a Bachelor of Science Degree in Political Science…
SUBSCRIBE TO THE CAMYOSFOP NEWSLETTER
Subscribe to our Newsletter & Get Exciting Updates about our Programs, Activities and News.